Our fun summer concluded with an end of summer campout with our friends! It was so much fun that I hope we make it an annual event!
We all gathered at
Tracy's
house on Saturday afternoon, and the men began putting up our tents. The rest of us got everything ready for dinner and kept the kids under control!
Meanwhile, Violet and Liam played footsies while they slept.
We attempted a group photo before dinner. The pictures are grainy, but the point was to document who was there, so it works!
We cooked hot dogs over the fire for dinner. Liam was so hungry that he chose grass as an appetizer.
Lexie came to the rescue with some snacks.
We ate our dinner by the fire and talked with our friends.
After dinner, the kids played while we hung out by the fire.
Of course, we had to roast marshmallows!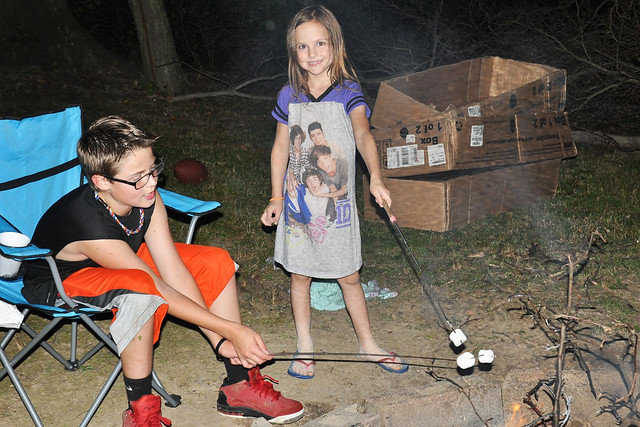 One by one, the kids went to their tents and fell asleep.
The adults sat by the fire until the wee hours of the morning, chatting and singing. It was such a relaxing night!
It was not the best night's sleep, but it was nice waking up at 6 AM to the dim morning light and birds singing. The kids were well rested. 3 hours of sleep was not enough for me, though!
We had donuts for breakfast, then broke down camp. The guys looked forward to a nap and us girls had a fun adventure ahead of us. Stay tuned!
I'm so glad we planned this campout! It was the perfect end to a fun summer!