Every Thursday, I babysit my best friend's two boys. My kids love them, and are so happy when they are here. Lexie, Dylan, and Tyler have a great time playing together, and my kids adore Braden. They always tell me that they want a baby! ;)
Dylan went over to my sister's house this morning, and spent the entire day there. Lexie and Tyler missed him so much, but they managed without him. Lexie is 6 months older than Tyler, and they are so sweet together. They love to cuddle, hug, and hold hands!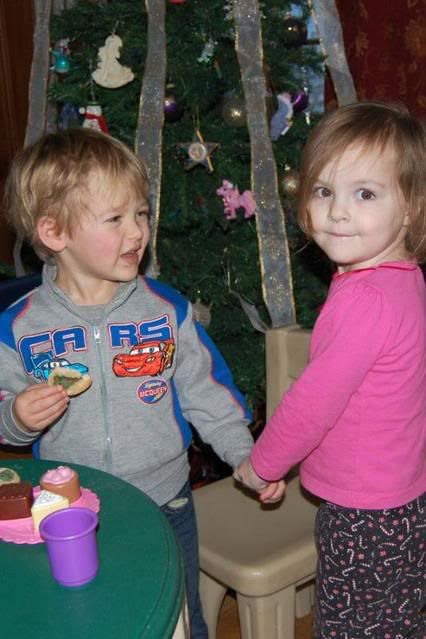 Every year, since Lexie was a baby, I've taken pictures of my kids in a giant, Christmas mug. I haven't taken the mug pictures with my kids yet this year, but I couldn't resist taking pictures of a cute, chubby, 6 month old!
What an adorable cup-o-baby he is!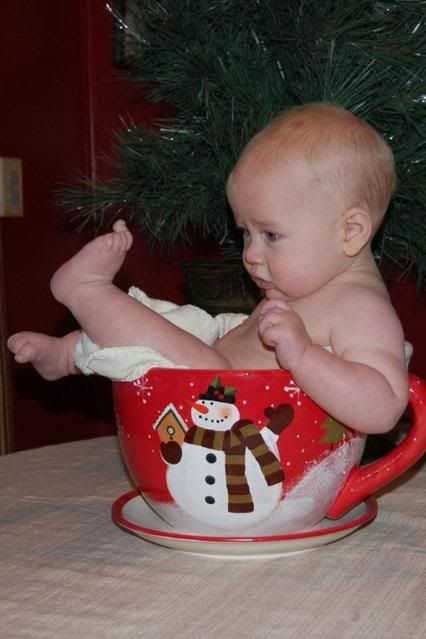 After the boys went home, Lexie and I had several hours alone. Grant had a work dinner, which he just got back from, and Dylan was at his cousin's basketball game. Lexie and I had her favorite dinner: Macaroni and cheese and turkey dogs, and then (quickly-it was freezing!) put some outdoor decorations up.
Lexie's eczema gets worse by the day. It's the same pattern every single year. Even with a prescription cream, free and clear products, and a humidifier, she will be plagued by it until the weather warms up. She still gets it in the spring/summer, but not nearly this bad! I feel so bad for her.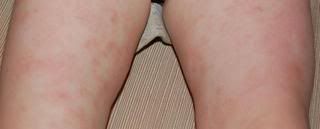 When Dylan came home, we put on our pajamas, and watched, "Rudolph the Red Nosed Reindeer." We snuggled up under a warm blanket, and drank hot cocoa as we watched the movie. Snuggling with my kiddos is one of the best things in the world! Life is good!